Welcome to another week of Healthy Living! We're so excited you're here and look forward to hearing your tips and simple steps towards a more healthy lifestyle.
Last time, the following link ups were so inspiring:
and
My simple step to healthy living this week is how to roast fresh beets! I love summer for many reasons--swimming, hot weather, vacations, camping, and much more. One of my most favorite things about summer is all the fresh, local produce available!!! My two favorite summer veggies are beets and asparagus. I'm always sad to see the summer months fade away because so do these wonderful veggies.
I bought a few FRESH beets (no canned beets for this girl!) a few weeks ago and thought I should share how I cook my beets. It is super easy and oh so delicious. I always try to cook & eat the beets while B is not around because it is one vegetable that he literally gags just smelling them. Since I'm such a wonderful wife I decided to cook them in the afternoon for a healthy afternoon snack. Unfortunately, B got out of class early and got home before they were done cooking, bummer!
On with the beet recipe......
If the beets you purchased (or grew) still have the leafy greens, cut those off and set aside to use them later. I have not been able to buy beets with the greens included, so I have not been able to experiment cooking with the greens. If you do not have any recipes to use the greens, just do a google search and you can find lots of ideas.
Soak beets in water with some produce wash for 10-15 minutes to help release some of the dirt. Then take a little veggie scrubber and scrub the beets to remove the remaining dirt.
Trim the tails off the beets, but don't cut into the beet or the juices will run when they are cooked. Slice the beets in half. This allows them to cook faster.
Take a piece of foil and lay it on a baking sheet. Place the cleaned and trimmed beets on the foil. Add 1 Tablespoon of
Coconut Oil
for every 4-5 beets you are cooking. Add salt & pepper.
Place another piece of foil on top of beets and wrap both pieces of the foil around the beets. Place the baking sheet with foiled wrapped beets in 350 F. degree oven. Bake for 1 to 1 ½ hours or until beets are tender. Once they are tender pull out of the oven and open up the foil pouch so the beets can cool enough for you to handle.
**Caution—Do not wear white when doing this next step. I usually wear a dark colored apron to protect my shirt because I'm a messy cook!
When the beets have cooled for a few minutes you can remove the skins from the beets. It is much easier to remove the skins after they are cooked then before and the skins help keep all the good juices in while cooking.
I usually pierce the beet with a fork so I don't have to hold onto the beet with my hands since they are still really hot. Use your other hand to remove the skins of the beets.
Now that the skins are removed cut the beets into bite size pieces. If you are going to eat them now, add some butter, salt, and pepper. Sit down and enjoy the deliciousness.
If you will be enjoying them later just stick them in a covered dish and put in fridge till you are ready to eat. When you are ready to enjoy them just warm them in a pan on the stove with some butter.
Do you like beets? How do you cook beets? What are your favorite summer veggies?
Thanks Kristina for letting me be a co-host this week!
Now it's your turn to share what you're learning! But first, I'm thrilled to have this lovely lady co-hosting with me today!
Andrea @

And now, for the rules...I'll try to keep them simple :)
1. Follow me and my co-hostess
2. You can post about anything you want, as long as it's a simple step towards a healthier lifestyle including tips for "green" living. I will ask that you avoid the following:
no artificial ingredients
3. Share the love. Check out at least 3-4 other posts and introduce yourselves. The thing I love most about linky parties is that you get to meet so many amazing people!
4. Have fun!! :)
I'd also love to have you put the button on your post or blog somewhere so that it's an actual "link" party! :)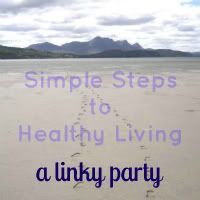 Want to co-host next time? Just
contact me
and we'll set it up!
And featured ladies, don't forget to grab the "I was featured" button! Excellent shares and I'm so glad you linked up last time!!