Welcome to Day 2 of 9 Days of Healthy Giveaways to kick off the New Year!
Have you been wanting to cut down on unneeded waste? Tired of those
germy sponges that sit in sink? City Girl Creations has two great products that will help get rid of unwanted waste and cut down on the germs in the process.
Her dish scrubbies are knit with a combo of 100% cotton yarn and tule to make a perfect cleaning cloth to fight any tough stain. They are easy to wash! Just throw them into your laundry and bam you are ready to use again!
She is also giving away a custom made swifter cover. Knit with a textured pattern, this cover is great at getting at those tough floor stains but gentle enough not to scratch or harm your floors. You can use these covers wet or dry and can be easily thrown in the laundry for easy and quick cleaning.
The winner of this prize will win their choice of 3 dish scrubbies or 1 dish scrubby and 1 swiffer cover.
Thank you so much Kim, for your generous giveaway! Love it when I can keep my home clean and be green at the same time!
Have you entered to win the wooden gift set from Real Salt from yesterday?
If you haven't, make sure you do!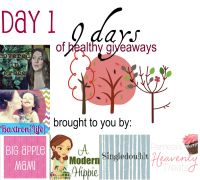 a Rafflecopter giveaway
Til' next time,